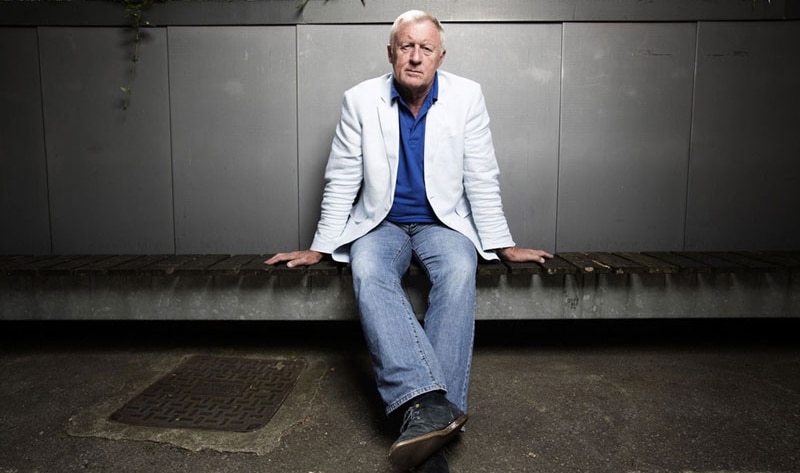 After graduating from the University of Birmingham and jobs as a lorry driver and security guard, his road to success began when he first found fame alongside Lenny Henry in the cult show 'Tiswas'. Following a 17-year stint presenting the popular 'Breakfast Show' on Capital Radio, he clocked up numerous other TV credits before taking the chair in the hugely successful 'Who Wants to be a Millionaire?', one of the biggest British game shows of all time, with a format, catchphrases and popularity repeated across the world.
His first listing in 'Who's Who' was in 2001, while in 2003 he was appointed an OBE in the New Year's honours list. Nowadays, he rather fancies himself as the next David Attenborough… A passionate angler and a huge fan of Canada, his interest in bears began in his childhood and was reignited by sightings of grizzlies while fishing in the wilds of the country. He'll be heading to Mallorca's shores this summer. Chris Tarrant talks to Angela Sara West about what he loves (and loathes!) about his travels.
What's your all-time favourite destination?
Anywhere in Canada, although the Yukon is probably the nicest place in the world. I love Canada, its people, its scenery and the sheer enormous size of it. It's the friendliest place on Earth and I get out there, usually to a new area each time, at least twice every year, something that I've been doing for 20 years.
Been there – would never go back to…
Nassau in the Bahamas. Although the Bahamas themselves are beautiful islands, Nassau was an absolute tip and we got jostled and harassed everywhere we went.
Top travel tip?
Leave your mobile 'phone at home!
Ideal travelling companion?
Angelina Jolie or my mate Fat Dennis!
And who would you least like to travel with?
Katie Price.
Favourite holiday reading material?
Everything by Frederick Forsyth, but generally I read absolutely anything and everything when I'm away on holiday. I really look forward to a long-haul flight, as it's one of the few times that I feel I can enjoy the luxury of reading a book without feeling guilty.
Preferred holiday type?
An activity holiday because I get bored stiff lying on the beach.
Top 3 destinations on your wish list?
Stewart Island in New Zealand, the Solomon Islands in the Pacific and Antarctica.
Top 3 things that you never get on a plane without?
My ticket, lots of books and an iPod full of music.
Earliest holiday memory?
Going to Cornwall in the UK with my parents and grandparents, in Grandad's beat-up old car. We used to stay at Polperro. It always seemed to rain there but I remember always having a great time.
Favourite holiday memory?
My whole family going to Brunei for New Year's Eve a few years ago. It was the most luxurious two weeks I've ever spent.
Which languages do you speak/wish you could speak?
Mandarin, because in 40 years' time we're all gonna be Chinese!
Where can't you beat for pure escapism?
The island of Becqui in the West Indies.
Which countries would you recommend for the best food and drink?
Malaysia or Cambodia, where the food is very similar to Thai cuisine but the spices are very different. There's also an amazing restaurant in the Yukon that sells 50oz steaks – they're the size of a dustbin lid!
Favourite beaches?
Manly beach in Australia, Jumeirah beach in Dubai and any of the beaches in Cambodia – they are some of the most beautiful beaches in the world and as a bonus, are almost completely devoid of people.
Could you share any funny stories that have happened to you on your world travels?
I was once false charged by a hippo in Zambia, I fell out of a float plane in Northern Canada and was once briefly the most Northerly man on the planet, way above the Arctic Circle!
In which countries has 'Who Wants to Be a Millionaire?' enjoyed the most success?
WWTBAM has been most successful in the USA and in India (where the presenter has achieved God-like status!) It goes out in 115 countries around the world and recent territories that have taken the show include Bangladesh and Afghanistan.
Are you ever recognised on your travels abroad?
I am occasionally recognised in America and Australia because of the odd bits of TV that have gone out there, but mainly I get left alone, which is lovely.
Do you own a property overseas or are looking to buy one in the future?
No, and personally I would never, ever buy property abroad again…
What's the reason for that decision?
Unless you live there for most of the year, owning a property abroad is just a constant hassle from a distance.
Travel guide or play it by ear?
Both… Sometimes it's nice to just take a chance, while in other places like India, for example, which is chaos, a guide is absolutely essential.
Hotel or holiday villa?
I stay in a lot of hotels although we are taking a villa in Mallorca this summer. The best hotels I've ever stayed in are in South Africa, Mauritius, The Maldives and India.
Which, would you say, is your favourite?
The best hotel ever is the Oberoi Amarvilas, right alongside the Taj Mahal in Agra, India.
Your Canadian fishing trip inspired a TV documentary, financed out of your own pocket…
Yes, it inspired an expedition to Spitsbergen, Norway a few years ago to make a TV documentary on the white polar bears of the Arctic. I also financed four films about fishing around the world, including the Yukon and Maldives, which will transmit on both sides of the Atlantic this year.
Finally, what's your idea of paradise?
Watching polar bears somewhere close to the North Pole. The scenery is stunning and polar bears are the most exhilarating creatures on Earth.
Is that your final answer…?
That's my final answer!
Factbox
Now 14 years-old, 'Who Wants to be a Millionaire?' continues to run on ITV1 throughout 2012. Chris is signed up to continue presenting the programme until at least 2013 and still loves presenting the occasional radio show on Radio 2. Look out, too, for his forthcoming documentary about his father for 'Hero In The Family', soon to be transmitted on ITV.