Charles Fazzino presented his new collection at the Mensing Gallery in Palma yesterday as part of his summer tour around Europe. Guests were able to meet the artist himself and were also treated to a spirited Flamenco performance at the event.
Numerous new graphics as well as exclusive unique paintings were among the 60 exhibits on show. Fazzino demonstrated his affection for Mallorca in his piece, 'Welcome to Mallorca', playfully capturing the characteristics and vibe of the island.
Many of Fazzino's colourful, comic-inspired paintings feature his home city of New York. The eye-catching pieces reflect an optimistic story-teller who loves to capture the detail and atmosphere of each place.
Head over to Mensing Gallery this summer, just one of the great galleries in Mallorca, and be drawn in by the intricate work of this original artist.
Address details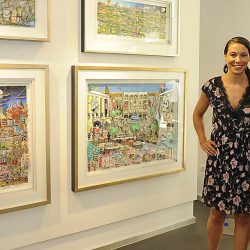 Mensing Gallery
Carrer de Colom, 8, Palma