Today you can book a flight, order a gift, or connect with a friend on another continent – whilst walking down a street or drinking a coffee. In our super-connected society it's hard to believe that, as recently as the mid-'90s, many people found the Internet unfathomable.
Julio García, however, faced the future head-on: in 1995 the Mallorcan broke new hi-tech ground as the Balearics' first private Internet access provider. Three years later, he and partners Antonio García and Antonio Marí founded the company at4, devoting themselves to the emerging potential of the World Wide Web and Information Technologies.
This dynamic company still leads the market in IT solutions for both B2B and B2C sectors. at4 created the MobiPalma app – for the fastest, simplest, and most sustainable way to move around the city – and the tourist audio-guide apps Goodbike Mallorca and Goodwalk Mallorca. Their projects range from the web portals for the pan-European nautical industry and Balearic Government, to the app for the prestigious Cappuccino group of restaurants and lounge cafés.
The creative modern team finds the most efficient, cost-effective, and user-friendly solutions for its clients. Innovation, sophistication, competitive pricing, and reliability make at4 the perfect partner in technology – still at the forefront of the rapidly accelerating evolution of new technologies. It partners with locally and foreign-owned companies in different business sectors on Mallorca, who share their vision of custom-designed software solutions being key to business growth in this fast-moving world. Small and medium-sized businesses often lack in-house IT expertise but trust at4 to develop cost-effective innovative technology-based projects for them.
"It may seem incredible that a software company on a small island like Mallorca has designed and built an iOS and Android app that's installed on more than 250,000 devices and used by 95,000 people daily," says Julio. That company was at4.Julio echoes the words of scientist and inventor Alexander Graham Bell: "Don't keep forever on the public road, going only where others have gone. Leave the beaten track occasionally and dive into the woods. You'll be certain to find something you have never seen before." Therein is innovation.
Address details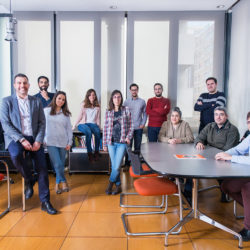 at4 Software Development
C/ Santiago Rusiñol, 8, Palma