As you draw closer to the crystal waters of the tiny bay at Portals Nous, the turquoise sea laps the white sandy cove. There is a resounding tranquillity of waves folding over and mutters of soft conversation where people rest and read. It has a much lighter ambience than its neighbouring beaches and is enjoyed – quite refreshingly – by a softer sprinkling of visitors. The unspoiled view is cradled by the rocks that surround it, which conjures a nostalgic Mallorca, of a time not so long ago when sands remained uninterrupted.
Perfectly situated here is Astir restaurant which graces the curve of the bay against a backdrop of the Iberostar Grand Portals Nous. It shares the same building but has carved out its own identity, a step away from corporate chic towards an ethic much closer to home. At the heart of Astir restaurant is a kitchen that is devoted to the land of Mallorca, of what it grows, raises and produces. It starts at the source of where the food comes from, which has led Astir restaurant on a journey to discovering Mallorca's most authentic flavours.
The food is gracious, rich in colour and taste, which it owes to its Mallorcan journey and the locals that sustain it. Whether their ingredients have been driven, cycled, carried or sailed from its original source, not a single air mile has been clocked. It is a comforting start that turns to pure satisfaction with every slice and spoonful of Astir restaurant's menu. Prawns from Sóller cooked with Mallorcan sea salt tingles on the lips. Chicken from Campos stuffed with pate from Felanitx and artisan beer sauce enlightens. Créme caramel of apricots from Porreres melts the heart. The list goes on.
Significant steps forward have also been achieved through Iberostar's 'Wave of Change' initiative which Astir restaurant is proud to be a part of. This ensures that the restaurant not only sources its seafood sustainably, but also reduces its use of plastic. Changes have also been introduced to ensure that coastal life, including its own at Portals Nous, is responsibly looked-after. This includes reducing single-use plastics in an effort to stop the vicious cycle of one-use, throw-away rubbish. The Astir restaurant chefs continue this conversation outside the kitchen talking to local farmers and understanding their work from the ground level. Slow Food often takes the shape of a circle, which Astir restaurant proudly keeps in motion, putting in what they hope will be positively received by customers and the people of Mallorca.
Astir restaurant's kitchen is available all day for breakfast, lunch and dinner, including a special brunch on Sundays. Any ideas on how to protect the oceans and preserve Mallorca's coastline are positively encouraged by Astir restaurant as a part of Iberostar's #WaveofChange.
Address details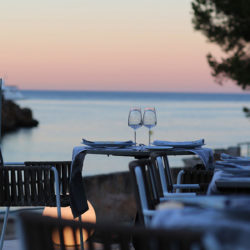 Astir Restaurant
Plaça Espanya, s/n, Portals Nous