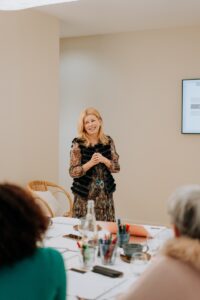 Are you in business for a while and still not reaching your full potential? If so, these Accelerated Business Workshops are a perfect chance to take a look at your business from a new perspective.
During the month of March, the four weekly Workshops will be dedicated to Branding your Business. We will be focusing on creating an inspiring brand story for your business which will become the essence of all your communications (website, newsletters, social media posts, etc). After attending the four Workshops, you will leave with a clear brand story and a better understanding of the purpose of your business.
Having a clear brand message helps you:
To create a consistent narrative about your business. 

To be more focused and clear about the purpose of your business. 

To clarify what is unique about what you offer.

To stay on track and don't get distracted.

To make better decisions.

To grow your business faster.
Book your place
Address details
hc/ Living & Business Lounge
Carrer del Jardí Botànic 2, Palma